Medallion No. 32
2021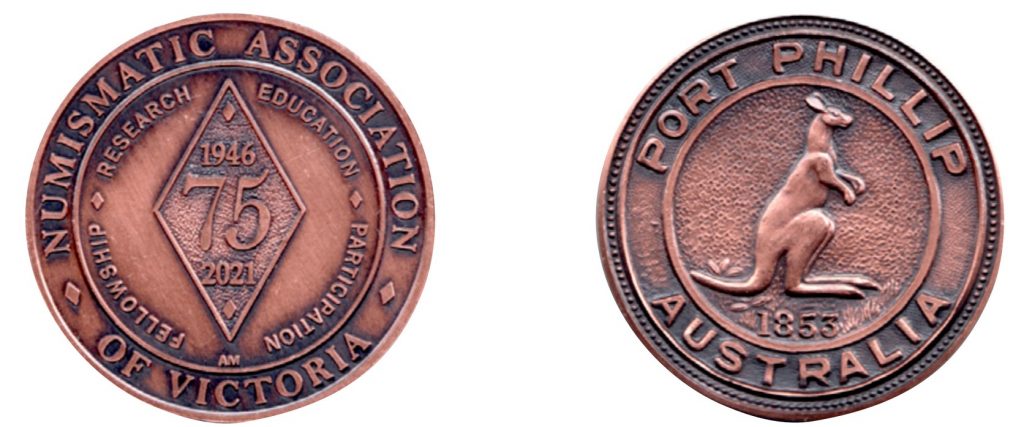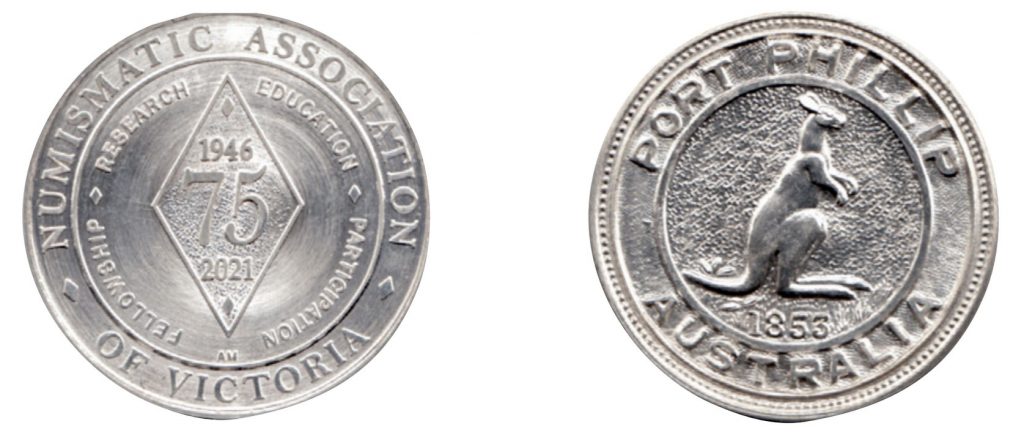 Event Commemorated
On 17 May 1946 the Numismatic Association of Victoria (NAV) held its first meeting in Room 10 of the Victorian Railways Institute, Flinders Lane, Melbourne. There were thirty people present as a draft constitution was tabled. Major F. Charles Bremer, a chaplain during World War II, was elected as President and Mr. Roy W. Farman as Secretary.
This medallion commemorates the 75th anniversary of that first meeting and like most of the things the Association does, is the result of teamwork. It is only appropriate to acknowledge our heritage at a time like this. Tony Dean of Medal Art Mint in Bega, NSW, who cut the die for the reverse, was apprenticed under Emil Hafner, who struck a number of NAV commemorative medallions over the years. This medallion has been struck by The Adelaide Mint, who also struck our last couple of medallions. And, in another nod to the past, the reverse design is similar to that of our 60th anniversary medallion (both are diamond jubilees), which was originally designed by the late Terry Pepperell.
The design also reflects the objectives that the Association has of encouraging research and providing numismatic education. It also attests to the important values that we treasure as members of a club, those of participation and
fellowship.
Medallion
The design concept of this 38mm diameter medallion was based on previously issued anniversary medals for our 50th and 60th anniversaries. The obverse is based on a design by Terry Pepperell used for the Association's  60th Anniversary. It was engraved by Tony Dean of Medal Art Mint, Bega, NSW and struck by the Adelaide Mint in the following metals:
¨                  Bronze (antique)                         (30 pieces)
¨                  Silver (0.999 fine)                        (15 pieces)
All medallions were issued with a story card. Silver medallions were boxed and accompanied by a numbered Certificate of Authenticity.
The medallions were issued unnumbered.
Reverse: A diamond featuring the date of foundation and the year of issue, surrounded by four key principals of the association of fellowship, research, education and participation. Designed by the NAV based on an original design by Terry Pepperell.
Obverse: Featuring the badge of the Numismatic Association of Victoria, which is in turn based on the Port Phillip Patterns struck by the Kangaroo Office, the first coins struck in Victoria.
Orders
A number of Bronze medallions are available for purchase. Given the limited mintage there is a maximum of two Bronze per order. Orders will be sent by Australia Post, Signed Delivery. For overseas orders please contact us at contactus@nullnavic.org.au