Part 1 of the 3rd edition of Leon Morel's catalogue of NZ commemorative medals 1865-1940 is now available from the Royal Numismatic Society of New Zealand's website.
This section covers the issues produced in 1939-40 for the Centennial and Centennial Exhibition, and expands greatly on the listings previously included by Leon in his 2nd edition and Supplement.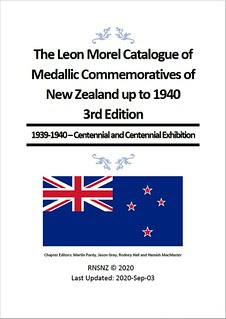 Each chapter will be made available online as a colour PDF and can be downloaded at no cost. Feel free to share these, but be sure to acknowledge the RNSNZ as publisher, and note they are not intended either for sale or resale.
Copies can be downloaded from www.RNSNZ.org.nz/collector-info/catalogues
Further parts will be added once ready, and Part 1 of the updated MacMaster/Purdy catalogue of post-1940 medals (covering the 2010-2019 decade) is expected to follow before the end of the year.
Contact Martin Purdy martin_lists@nullyahoo.com  regarding any errors, omissions or new discoveries.
One advantage with electronic publishing is that the editors can update whenever necessary and make a new version available for downloading. It may pay to look in on the "catalogues" folder periodically to make sure the versions you have are the most recent.