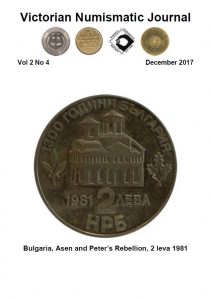 All eight issues of the Victorian Numismatic Journal (VNJ) are now available on-line. Access is currently only available to members of the NAV and the Geelong, Melbourne and Morwell numismatic societies.
To access the VNJ, and the Australian Numismatist archive, members should go to their Member Page. If you're a member and don't currently have access then simply Contact Us or email info@nullnavic.org.au.
If you're not a member of any of these societies, and would like to access the VNJ, as well as previous issues of the Australian Numismatist, then why not join? You can join the NAV online here and links to the other societies can be found here.