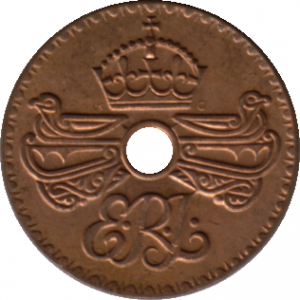 Territory of New Guinea, 1 penny, 1936, KM6
With an area of 815 000 km2, the island of New Guinea is the second largest island in the world and is located immediately north of the northern tip of eastern Australia.  The western half (Irian Jaya) is currently part of Indonesia and the eastern half (along with some other nearby islands) is the nation of Papua New Guinea.  While the Dutch colonised the western half, the eastern half was colonised by the British (in the south) and the Germans (in the north).  With the outbreak of World War I in 1914, Australia sent an expeditionary force which captured the German territory; this territory was mandated to Australia by the League of Nations in 1920.
The first coins struck for the mandated Territory were small quantities of cupro‑nickel pennies and halfpennies, both dated 1929.  Larger quantities of bronze pennies were struck in 1936, 1938 and 1944.  Cupro‑nickel theepences (1935 and 1944), sixpences (1935 and 1943) and silver shillings (1935, 1936, 1938, and 1945) were also struck.  All of these coins have a hole through the centre for the practical reason that the majority of the people who would use these coins did not have pockets or purses to put them in; instead they would string them onto a cord and wear them around their neck.
Because of the hole in the coins, they do not have a portrait of the ruling British monarch; instead they have either his name and titles in Latin (on the 1929 coins and all the shillings) or their abbreviation (on the rest of the coins).  The first coins were struck during the reign of King George V and the last ones during the reign of King George VI.  In between these two reigns was that of King Edward VIII who reigned for only 10½ months during 1936.  The coin shown above is one of only a few coins that were issued in his name (others were issued by British West Africa, East Africa, Fiji and the Indian states of Jodphur and Kutch).
The obverse of the 1936 penny depicts a native ornament either side of the hole, with a crown above and the cypher E R I below.  These initials stand for Edwardvs Rex Imperator – Latin for Edward King Emperor.  The reverse depicts another native design with the English legend "TERRITORY OF NEW GUINEA" around above and "ONE PENNY 1936" around below.
This bronze coin was designed by George Kruger Gray (whose initials (KG) are on both the obverse and reverse) and was struck by the Melbourne branch of the Royal Mint; the dies had been prepared in London and then shipped to Melbourne.  Mintage was 360 000.
Prior to the issue of these coins, Australian coins had been used in the Territory.  After World War II, Australian coins were again used until independence in 1975 when the new nation of Papua New Guinea issued its own coinage.