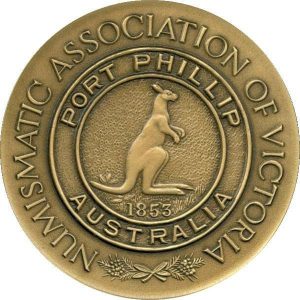 The NAV held its first meeting on Friday 17th May 1946. The meeting was held at the Victorian Railways Institute, Flinders Street, with thirty people in attendance. The constitution was approved and the council elected, with Major F. Charles "Pardre" Bremer as President and Mr. Way W. Farnam as Secretary. The minutes of that first meeting are reproduced below.
Minutes of the 1st General Meeting of the Numismatic Association of Victoria held in Room 10 at the Victorian Railways Institute, Flinders Street, Melbourne on Friday May 17th 1946.
Present: 30
Mrs V. Thomas, Miss D. Collier, Messrs Ashby (Kyneton), Marcollo (Bendigo), Church, Higson, Menzel, Menzel Jnr, Freeman (Tasmania), Freeman Jnr (Tasmania), Wicks, Curran Senr, Wodak, Schiller, Luck, Schafer, Officer (Geelong), Saunders, Taylor (Kyabram), Flinn, Simpson, Young, Pignolet, Loxton, Dawson, Webster, Warren, Bremer and Farman.
Visitor: Miss Arnold.
Apologies: Messrs Hayes, Turnbull, Kennedy, Dr. Russell.
Preliminary meeting:   A preliminary meeting was held at which a draft constitution was submitted.  Those present agreed to form a body and discuss a constitution clause by clause.
Constitution: On motion of Messers Pignolet and Luck it was agreed to adopt the constitution as approved.
Officers:  The chairman – Major F. Charles Bremer – then called for nominations for 1946-47.
The following were elected:
President – Major F. Charles Bremer
Vice Presidents – Lieut. W. E. Curran Senr., Mr. Raymond Marcollo.
Secretary – Mr. Ray W Farnam
Treasurer – Mr. Jack Warren
The following members were elected to the Executive Counsel:
Miss D. Collier, Mr. T. Ashby, Mr. F. T. Flinn.
Syllabus: The secretary asked for suggestions for the syllabus.
Meeting closed as 10.15 pm
Signed: F. Charles Bremer, Chairman – Accepted 21st June 1946