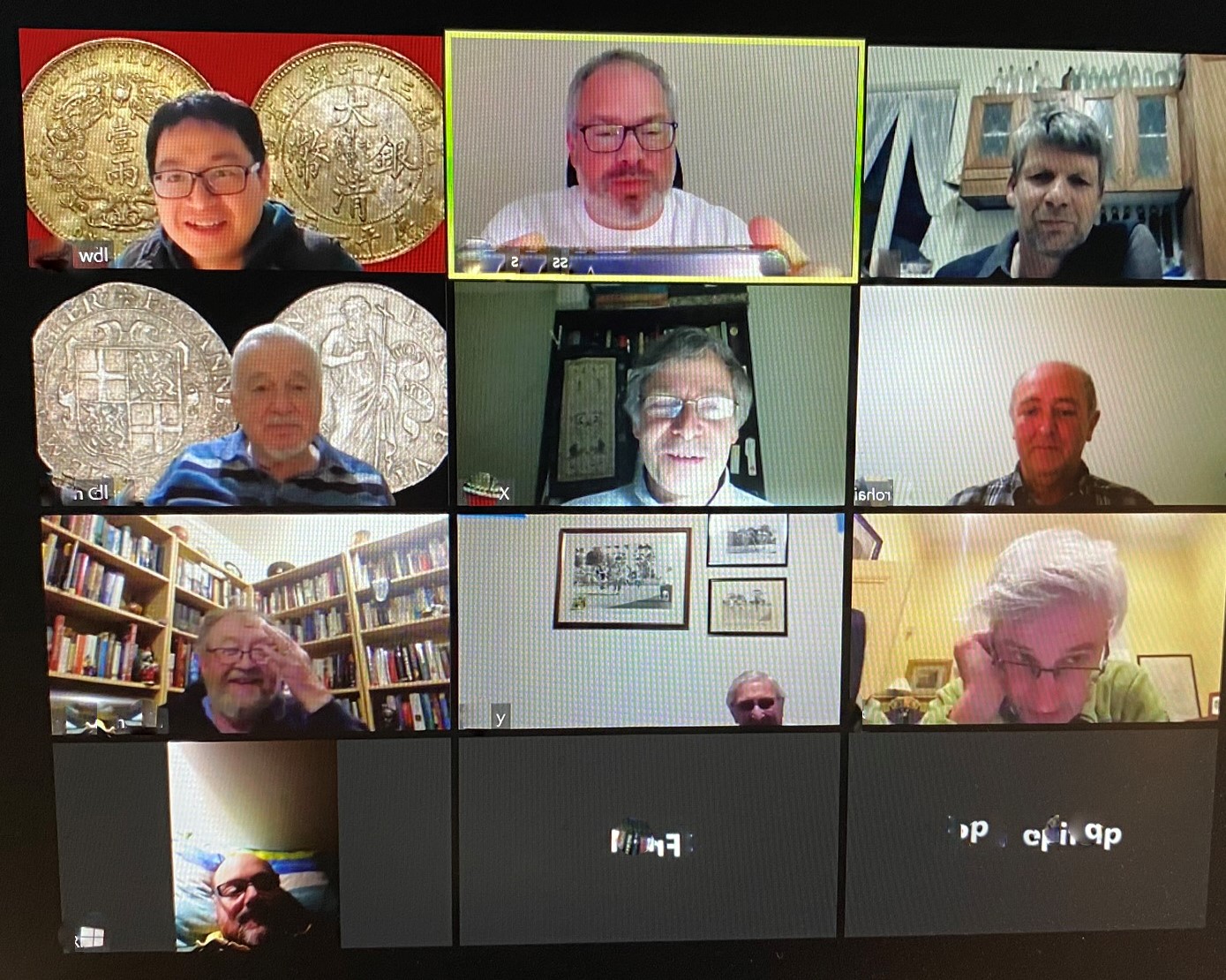 At the beginning of 2020 the 18th April was set to be a regular NAV Meeting. However since the COVID-19 outbreak, and subsequent restrictions on gatherings, we've had to make some changes. Last night a small group of NAV members, and one visitor, got together over a video conference and had a chat. It worked surprisingly well and everyone seemed to enjoy the proceedings. As there was no agenda and talk prepared members shared their latest acquisitions or just caught up on their pre-COVID adventures. Below is a summary of the numismatic items that were covered throughout the evening. The range of topics just goes to show how wide and varied numismatics can be.
Tom & Jerry PNC
Australia Post issued a Tom and Jerry postal numismatic cover earlier this year. It features a pictorial envelope with the $1.10 stamp from the Christmas Island Year of the Rat 2020 stamp issue and a $1 Tuvalu  coin from the Perth Mint. The stamp is postmarked – 28 January 2020 | Christmas Island WA 6798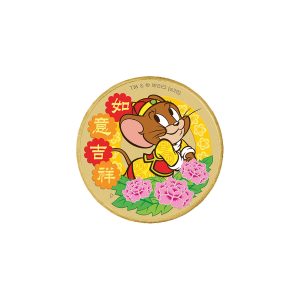 Maltese 2 Tari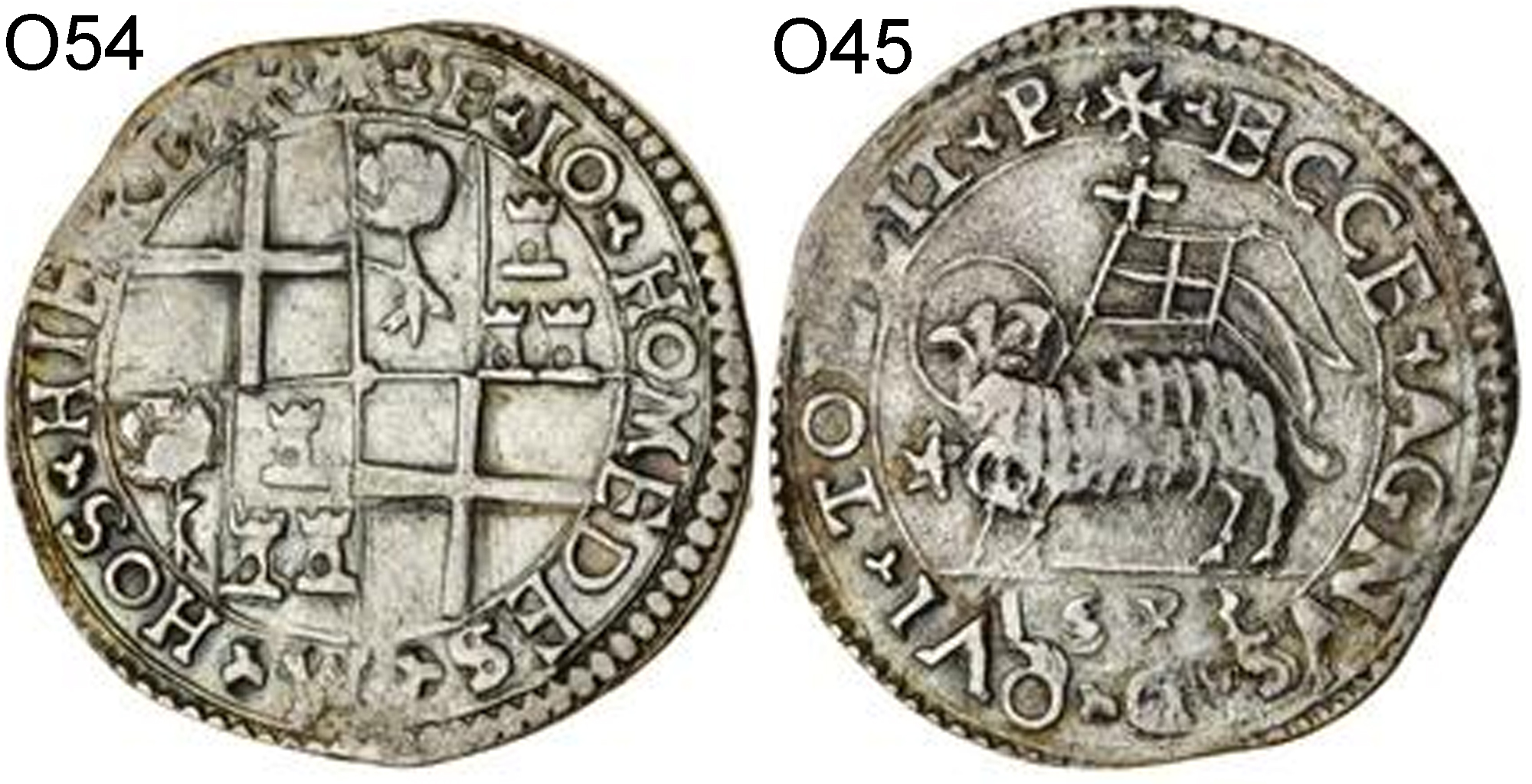 This 2 Tari issued by the Knights in Malta under Grand Master Juan de Homedes (1536 to 1553) 2 is dated 1543 and only the second known example.
British Countermarked Half Penny
A British Halfpenny countermarked advertising "Brawn: By Jas (James) Milner, Bridgnorth". A similar example sold at Downies Australian Coins Auction Sale 311, lot 1516 listed as follows: Cartwheel Penny counterstamped the counterstamp VF, host coin Fair. interesting Research indicates that James Milner was a local ironmonger.
Further research has revealed that this James Milner was a butcher, He was using used coins to advertise his brawn,  a meat dish, often prepared and sold by local butchers, especially at Christmas. The following extract from an 1802 copy of The Agricultural Magazine confirms this:
"A few days since was slaughtered by Mr. Milner, Brawn-maker, of Bridgnorth, the famous Leicestershire boar, bread by Mr. Maddox of Walkerflow, new the Clee Hills, which has so much excited the curiosity of the public during the last twelve months."
RBA Logo
The design of the Reserve Banks of Australia (RBA) logo marked its 60th anniversary. The logo was designed by Gordon Andrews, who also worked on the first Australian decimal banknotes. It's interesting to note that early designs were eventually simplified to the final design. It's also worth noting that the design is not symmetrical, with the right side slightly higher than the left. One member did note some similarity to the logo used by US based 90's hip hop band the Wu-Tang Clan. We'll let you decide on their relative design merits.
"True Cross" Pilgrim's Tokens
Image Courtesy of Pegasi Numismatics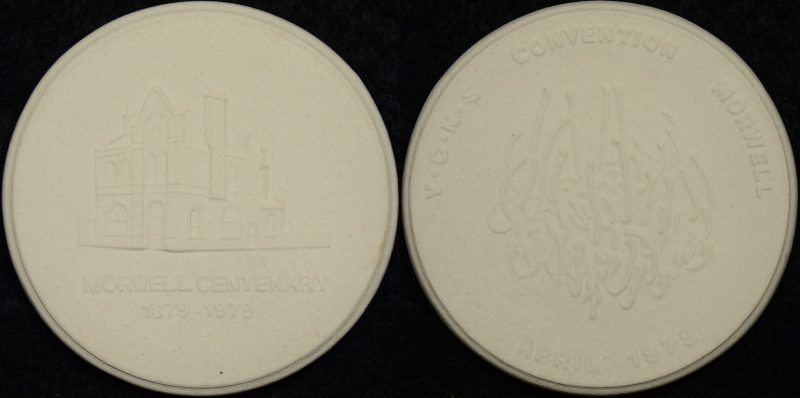 Image Courtesy of The Purple Penny
Pilgrim's Tokens of the "True Cross" were tokens issued as souvenirs of celebrations that accompanied the return of the True Cross to Jerusalem in 630 AD. They are small clay or terra-cotta "medallions", made by pressing a lump of clay into a mold. It is said that a piece of the wood of the Cross were burned and the ash mixed with the clay making the tokens miniature reliquaries. More details of these fascinating pieces can be found at Pegasi Numismatics.
This topic also lead to a discussion of other ceramic issues, including Morwell Numismatic Society's 1979 commemorative medallion (Carlisle 1979/28). This piece was issued to commemorate Morwell's centenary as well as the town's hosting of the Victorian Council of Numismatic Societies (VCNS) conference, which was held in April of that year.
Battle of Malplaquet Medallion
This British Commemorative Medal (Eimer 438) was issued to mark the battle of Malplaquet. Part of the War of Spanish Succession this bloody conflict (over 22,000 wounded and 15,000 killed) was fought near the border of France on 11 September 1709 by the forces of Louis XIV of France, commanded by Marshal Villars, against a Dutch-British army, led by the Duke of Marlborough. Although it was a tactical victory for the "Grand Alliance" is was noted as a strategic victory for the French. The 47mm medallion was designed by J. Croker and issued in both Bronze (pictured) and Silver.
Victorian Commemorative Medallions
Commemorative medallions marking key events in Victoria's history were shown. First was a gilt example of the 1916 issued medallion commemorating the 50th anniversary of the Gippsland Hospital (Carlisle 1916/3). The 27mm medallions, struck by Stokes, were issued Silvered, Gilt and Silver, Second was a pair of Geelong Numismatic Society medallions, issued in 1985 to commemorate Victoria's 150 anniversary (Carlisle 1985/84). These 38mm medallions were struck by Brim Medallions of Melbourne and issued in Brass (50), Copper (150), Bronze (100) and Silver (50).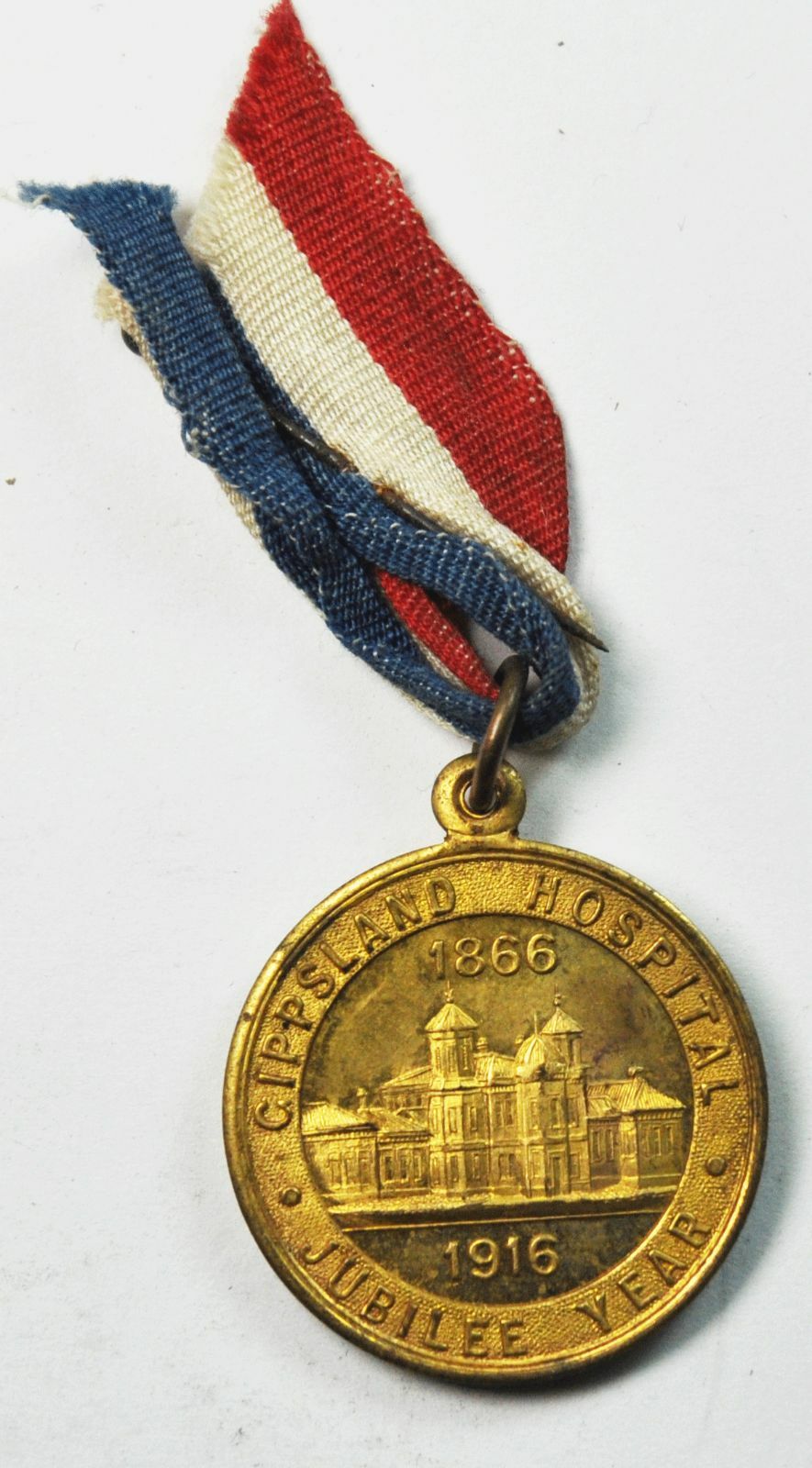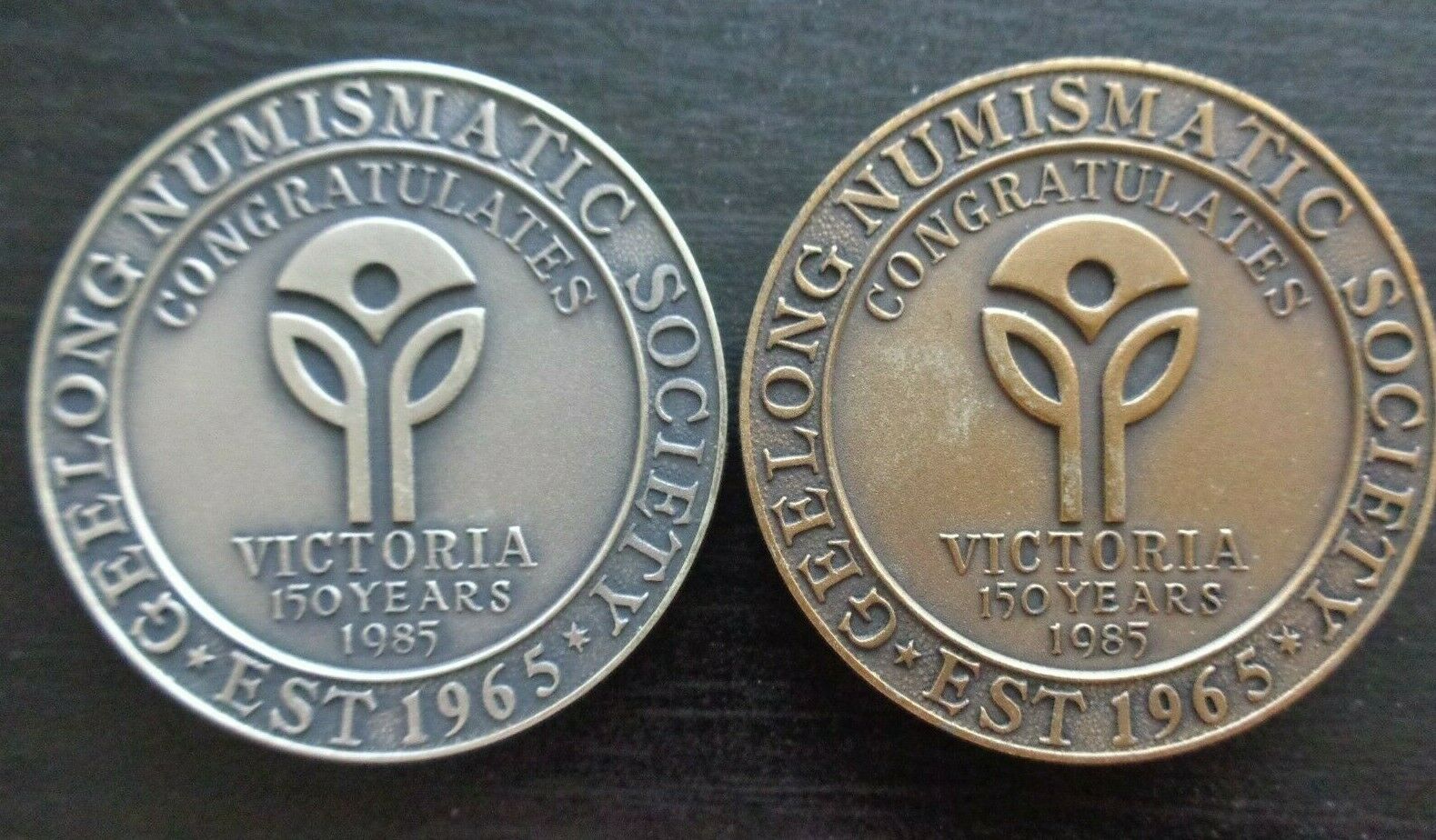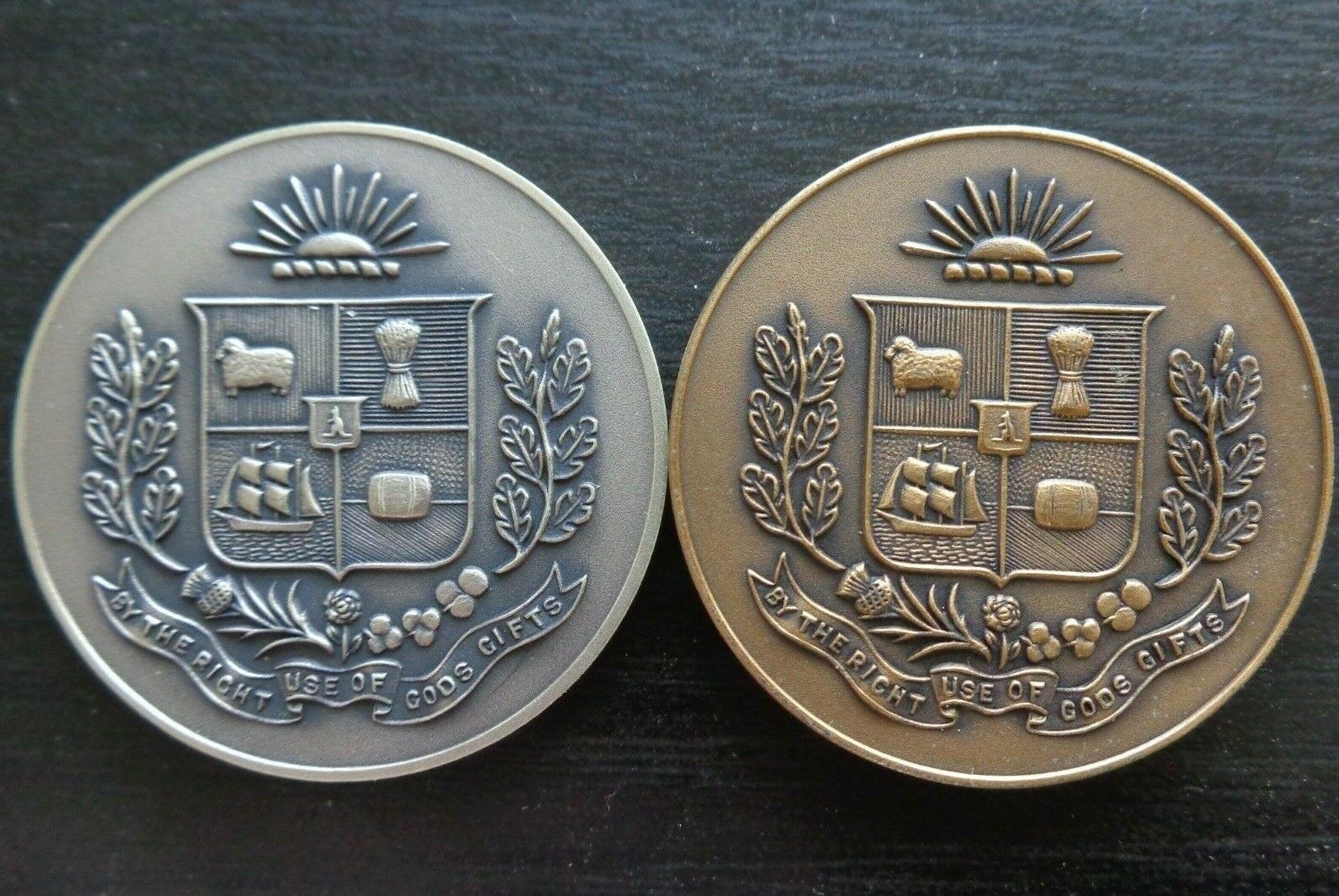 Irradiated Dimes
Finally the conversation turned to alchemy, with an example of these intriguing American issues. Silver dimes were processed through an irradiator that converted the silver content to cadmium. If you're interested in the science there's an excellent article at the Oak Ridge Associated Universities' website.