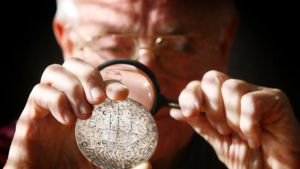 It's with much sadness that we report the passing of Dr. John M. Chapman FRNS, one of the foremost collectors of Australiana of the 20th Century. Dr. Chapman, a former dental specialist, was a member and former president of the NAV, a Fellow of the Royal Numismatic Society and a foundation member of the Numismatic Association of Australia (NAA).
His passion for collecting items related to the history of Australia, and Victoria in particular, extended well beyond numismatics. In 1988 he donated the 1853 Bendigo Goldfields Petition, containing over 5,000 signatures, to the State Library of Victoria. The rejection of the Petition was one of the contributing causes of the Eureka Stockade, and had long been thought lost.
President of the NAV in 1991-1992 he contributed a number of articles to the Australian Numismatist over the years including:
In 1996 Dr. Chapman was awarded with the NAV's highest honor, the Award of Merit. The same year he was presented with the Paul Simon Memorial Award for outstanding contribution in promoting numismatics in Australia by the NAA. His contributions to the Journal of the Numismatic Association of Australia were articles on Alfred Ronalds and his Victorian Separation medal, The solution of the Charlotte enigma, and a look at the St. Kilda Bowling Club medal.
In 2004 two of the most important documents relating to the foundation of Melbourne from Dr. Chapman's collection were sold to the National Museum of Australia.  One was a six-page letter dated June 1835 from John Batman urging Colonial Secretary Lord Glenelg to support the Port Phillip Association's claims to land from Melbourne to the Bellarine Peninsula.
One of Dr Chapman's spectacular finds over his 50 years of collecting antiquarian books, which was sold at the same auction, was the 1836 Deed of Settlement of South Australia from the South Australian Company, which saved the colony from bankruptcy and abandonment.
In 2008 he sold the bulk of his numismatic collection in Nobles Sale 88a, which contained among many other rarities the Charlotte Medal, the first known piece of medallic art crafted in Australia. This 74mm diameter silver disc is believed to have been engraved by Thomas Barrett, a convict thief and forger, on board the First Fleet convict transport Charlotte whilst the ship was anchored in Botany Bay between 20 and 26 January 1788. It was commissioned by the First Fleet's Principle Surgeon John White, the surgeon onboard the Charlotte during the voyage. It now resides in the collection of the Australian National Maritime Museum. He even struck a number of personal medals to mark the occasion of the sale.
An active member of the numismatic community for many years he will be sorely missed by his family and friends, but his legacy as a custodian of the nation's history will undoubtedly live on.