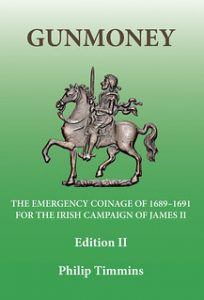 Phil Timmins has announced a second edition of his book on the fascinating numismatic area of Irish Gunmoney.
The book incorporates new features that were not included in the first edition.  This includes a new layout with current prices for all variants, together with a new chapter detailing the off-metal gunmoney coinage of the period. An article with more detail is available in the Numismatic Bibliomania Society's online newsletter the E-Sylum.
GUNMONEY: The emergency coinage of 1689-1691 for the Irish campaign of James II is a scholarly publication written for collectors, dealers and students of Irish numismatics. If your're interested in a copy you can contact the author directly timmins.phil@nullgmail.com, for further details.