The September 2020 meeting of the NAV was held on the evening of Friday 18th as a Zoom meeting due to Stage 4 COVID-19 restrictions in Melbourne. Nineteen attendees shared their latest acquisitions and enjoyed the presentation of three fascinating short talks.
As always the topics covered were wide and varied, with some of them detailed here. The next meeting will be held on Zoom on 16th October and as usual details on how to join will be sent to members and guests shortly before the meeting.
New Acquisitions
---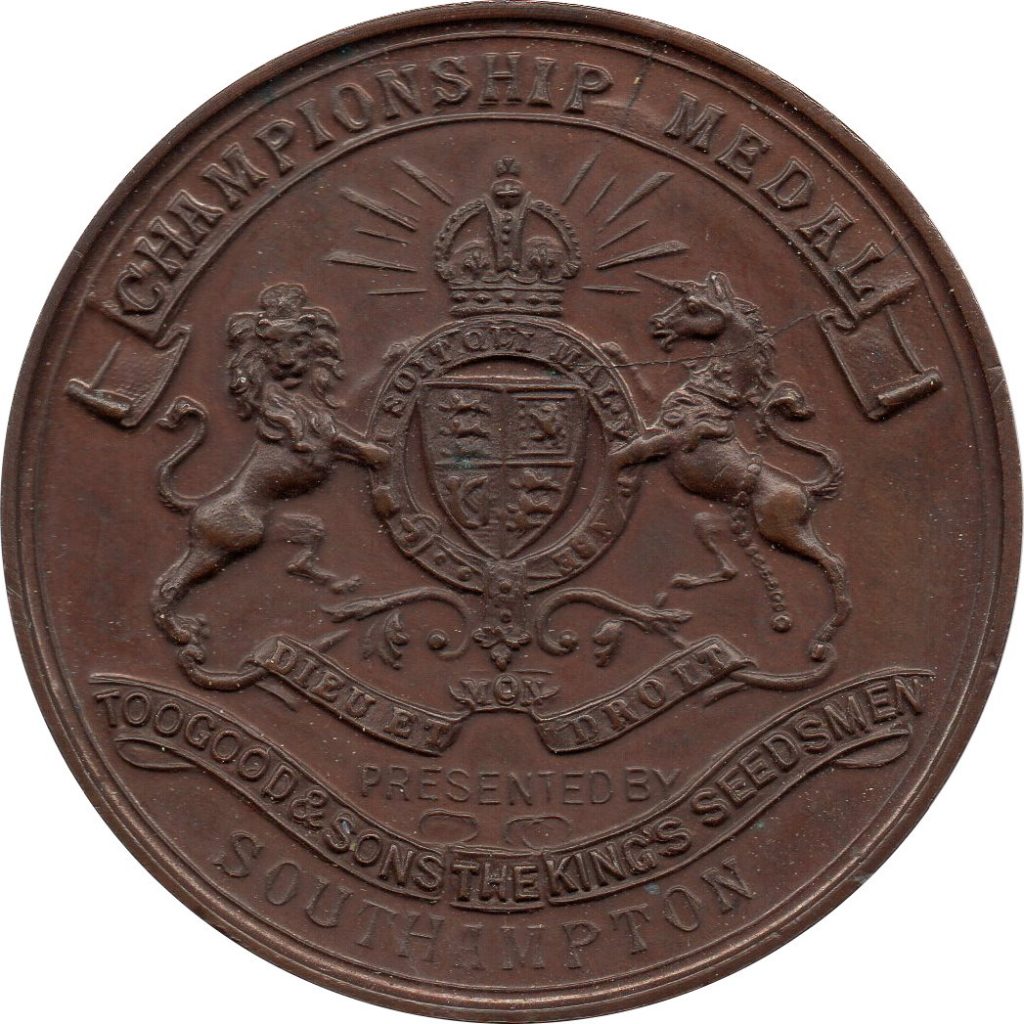 Toogood & Sons, Southampton, UK (unnamed & undated – probably 1910s), bronze, 44mm
Edward, Prince of Wales Visit to Australia, 1920 (gilt) bronze, 27mm (General issue with "STOKES" under bust) [Giordano CM50b-1; Carlisle 1920/5]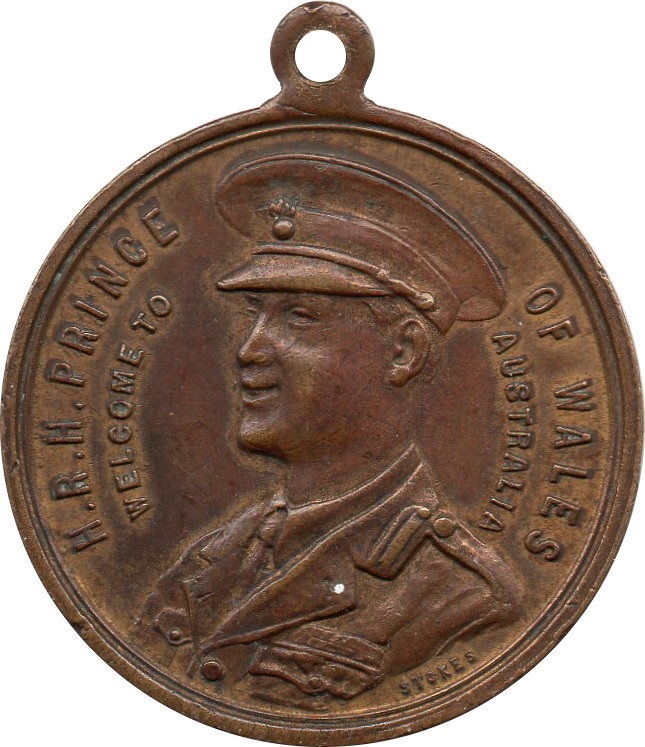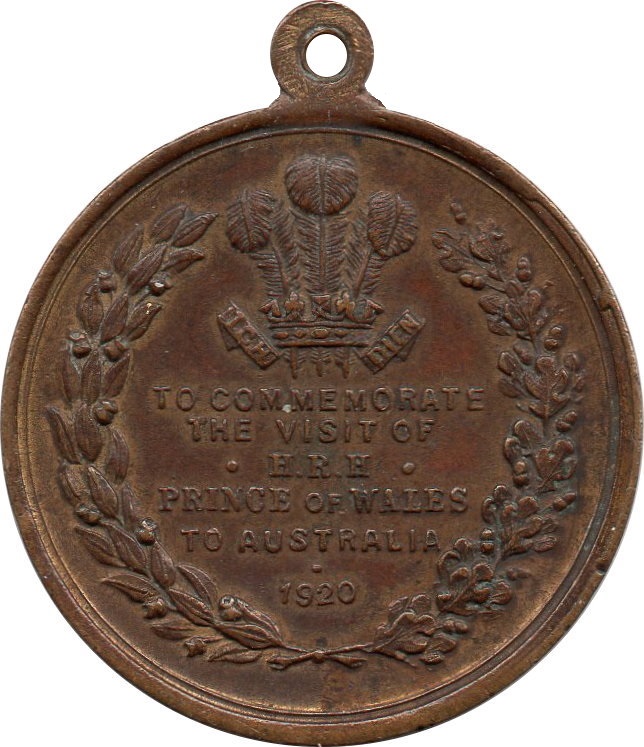 ---
Echuca – Hopwood's Punt; Bridge Hotel (Tourist Souvenir), bronze, 31mm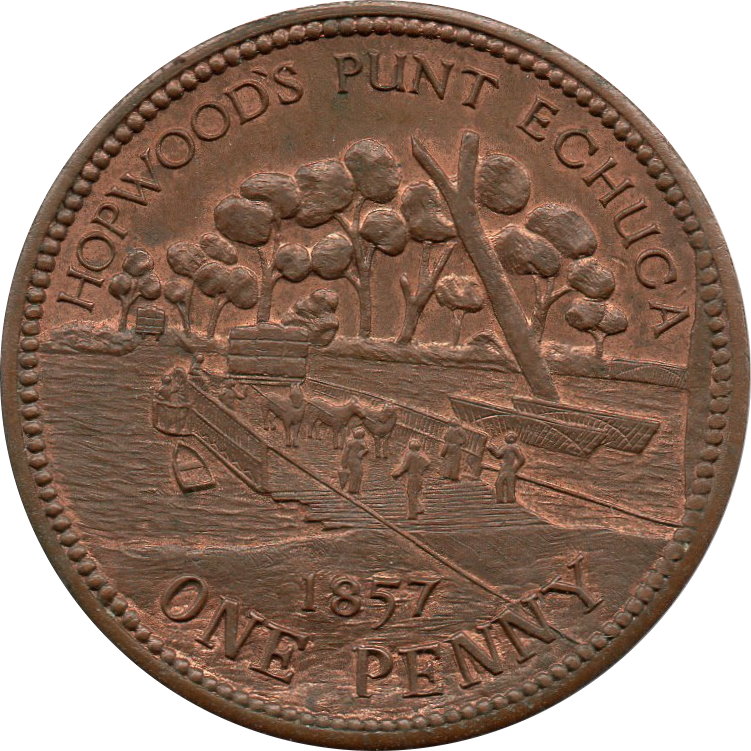 ---
MALTA, Order of Knights of the Hospital of St. John of Jerusalem (Knights of Malta). Jean l'Evesque de la Cassière. Grandmaster, 1572-1581. AV Zecchino (21mm, 3.41 g, 4h). Valletta mint. St. Mark standing right and Grandmaster kneeling left, holding banner between them / Christ standing facing within mandorla containing nine stars. Gatt 08-1Z-01X01; Restelli & Sammut 1; Schembri 1; Friedberg 7. Toned, edge scuff. Good VF. CNG Feature Auctions 115, lot 918. From the El Medina Collection. Ex Classical Numismatic Group 36 (5 December 1995), lot 1001.Sold for US$3,750 on a US$1,500 estimate.
---
MALTA, Order of Knights of the Hospital of St. John of Jerusalem (Knights of Malta). Francisco Ximénez de Tejada. Grandmaster, 1773-1774. AV 20 Scudi (30mm, 16.74 g, 6h). Valletta mint. Dated 1774. Armored and draped bust right / Crowned Star of the Sovereign Military Order of Malta. Gatt 26-20S-12S12; Restelli & Sammut 5; Schembri 2; KM 294; Friedberg 41. Lightly toned, lustrous. EF. CNG Feature Auction 115, lot 918 From the El Medina Collection.
---
---
2018 & 2019 40mm $1 fine silver frosted uncirculated Kangaroo Series, "Seasons Change" 1oz Silver. Mintage of 10,000 each. The reverse of the 2018 coin represented Summer and was designed by Stevan Stojanovic. The 2019 coin represented Autumn and featured two Eastern Greys.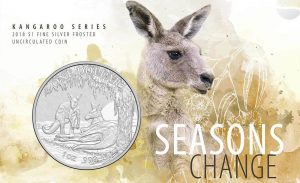 ---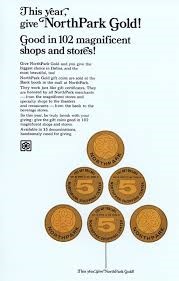 $5 Gift Coin for NorthPark Shopping Centre in Dallas, Texas. According to the centre's archives they made their debut for the holidays in 1969 as simple $5 coins that could be used like cash at any store. A newspaper clipping from the early 1970s references "N.P.'s Gold Booth," where patrons could purchase the gold in "charming gift packages."
Discussion turned to similar issues including New Zealand based Kirkcaldie & Stains of Wellington. An issuer of penny and halfpenny tokens in the late 19th century, they revisited this heritage by issuing a silver coloured $250 and gold coloured $500 tokens in the early 2000s.
David Jones has also issued a number of similar tokens over the years including this silver $25 struck by Stokes (Downies Sale 319A, Lot 3772)
---
INDIA, British, EIC, Madras Presidency, European style coinage, second issue (1808), silver half pagoda, two small dots between legs of Vishnu (Pridmore 171; KM.354). Very fine and scarce. Ex. Mark E. Freehill Collection, Nobles Sale 124, lot 4182.
---
Great Britain 2017 Silver Proof £2 Britannia. 38.61mm diameter, 1 Ouce Fine Silver. Reverse designed by Louis Tamlyn and a mintage of 7,500
---
2020, The Genius of Sherlock Holmes and Sherlock & Moriarity Philatelic – Numismatic Covers (PNC). 7,000 were issued on 18 August, with 38.45mm cupro-nickel medallions, produced by the Royal Mint. 600 of each were issued with a .925 silver medallion.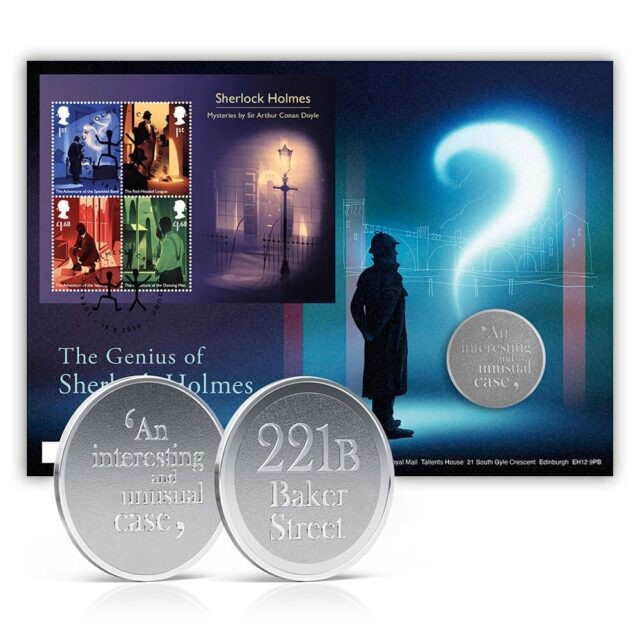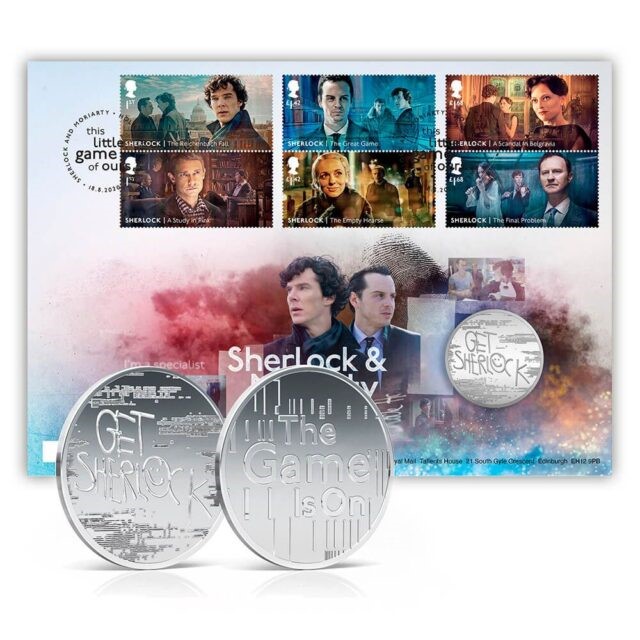 For more details on these and other Sherlockian numismatic items visit The Fourth Garrideb, a society dedicated to the Numismatics of Sherlock Holmes.
---
Short Talk: A Coin from the Fishpool Hoard
A brief overview of the Fishpool Hoard was given. This hoard was discovered near Newstead Abbey in the English county of Nottinghamshire in March 1966. Part of the hoard was sold by Glendinig & Co in October 1968. Lot 3 was not pictured but listed in the catalogue as follows: Richard II, London Noble, Brooke type (C) with fish-tail lettering, no marks on rudder or by shield, obverse includes French title. Slightly short of flan, otherwise extremely fine and rare.
The coin resurfaced in 2004 in a Spink Circular and was bought by a British collector then living in East Gippsland. This coin was then sold on eBay in 2005 where it was purchased by its current owner. A full article on this rare and well-travelled piece will appear in the next Melbourne Numismatic Society newsletter.
---
Short Talk: The West Gate Bridge
The speaker noted that we are approaching the 50th anniversary of the Westgate Bridge Collapse, which occurred on 15th October 2020. Tragically thirty-five construction workers were killed and another 18 were injured. An overview of the incident was given followed by details of the project from conception to completion. A number of items were also shown including the Common Seal of the West Gate Bridge Authority, receipts and vouchers for the toll crossing, and a medallion issued at the time of completion in 1978 (Carlisle 1978/14).
This ABC News report from 10 years ago recounts the incident on the 40th anniversary.
---
Short Talk: My COVID Coin Cabinet. Part 2: Stage 4 Lockdown – So You Think You've Got it Bad. Try Surviving a Siege!
The talk opened on some of the recently experienced inconveniences (toilet paper shortages) of the pandemic and then proceeded to recount a brief history of the Thirty-Year War (1618 – 1648). This European based conflict resulted in the death of over eight million people. The talk then focussed on the fortress town of Breisach, which was besieged twice during the war.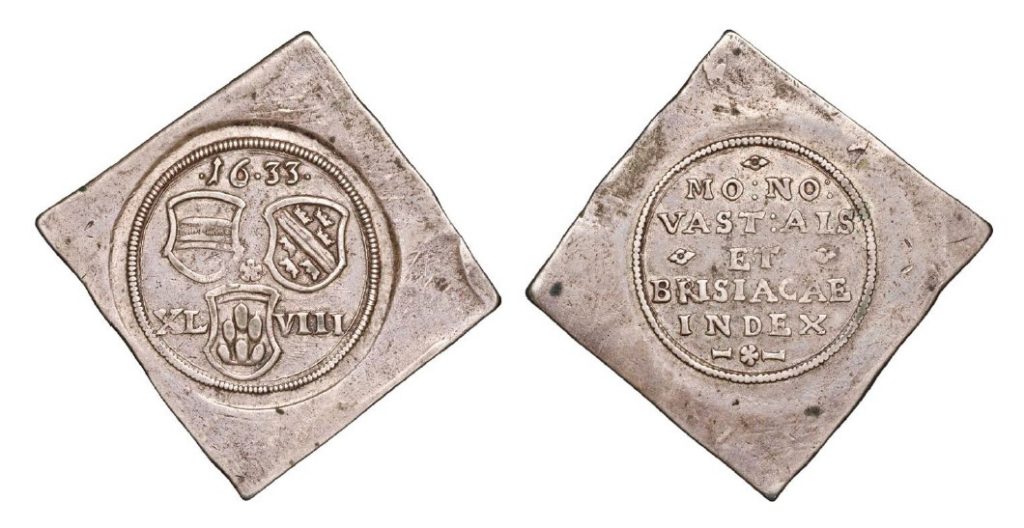 In 1633 siege coinage was produced by Hannibal von Schauenburg, commander of the besieged garrison. The coin shown is a 48 Kreuzer Klippe. The obverse features the date, denomination (forty & eight in roman numerals) and coats of arms of the Holy Roman Empire (top left), Alsace (top right) and Breisach (bottom).
In 1638 the town was again besieged and this time the victory over the Holy Roman Empire was marked with a series of commemorative medals. The first of these features a portrait of the commander of the French forces that finally took the town, Bernhard of Saxe-Weimer.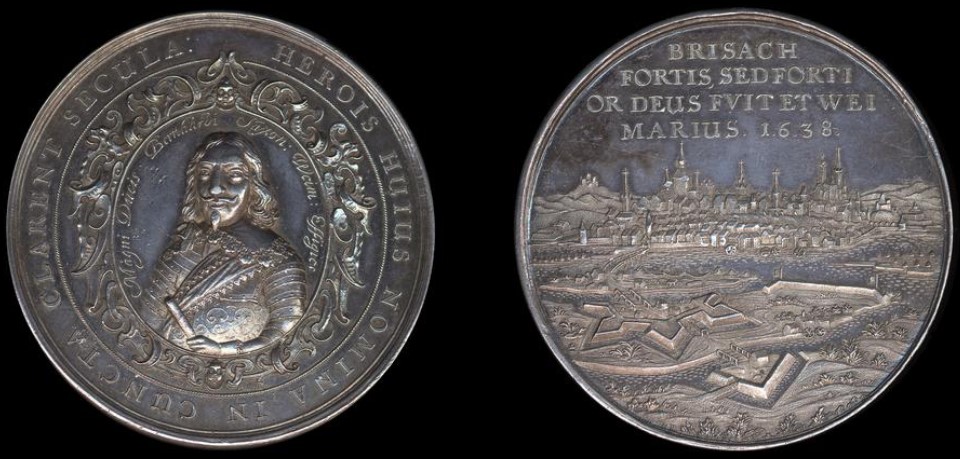 Another example, from the collection of Sarah Sophia Banks, now in the British Museum, shows the commander on horseback and a view of the town on the reverse.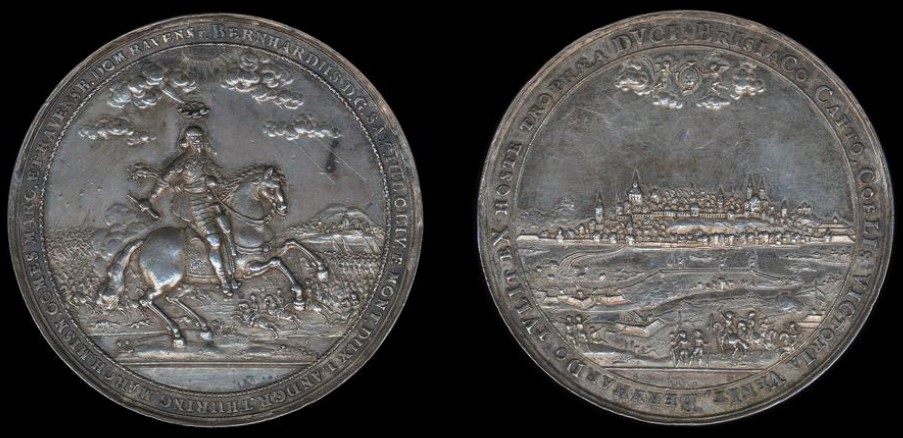 Throughout this final siege on the town there were horrific contemporary reports of cannibalism, reminding the author of a startling painting by Peter Booth that sits in the Art Gallery of South Australia.